Storyboard – the basis of any animation
The storyboard is one of the most important work components for clients. Developed in close cooperation between medical and creative experts with years of experience, it contains the content of your story and shows how it will be displayed in the final film. As this document will serve as the basis for story development and approval, as well as production briefings, it is important to pay attention to teaching principles, as well as story flow and tension, in order to prevent unwanted plot holes.
Although illustrations in the storyboard phase are simple, you should be aware that important image information such as composition and proportions are defined at this point and need your approval. This is because the storyboard is not only a general concept of the expected animation, but also the roadmap the production team uses to bring your story to life.
A storyboard usually contains the following columns:
An animation description allows both you and the production team to imagine what happens in the sequence and how it will be animated. On-screen text is noted here.
The storyboard images give a first impression of the style and look of the animation. Here the proportions, the detail, and the level of abstraction of the visualization (as a molecular or abstract form) play a crucial role.
The narration, later spoken by a professional voice actor, sets the length of a scene.
The references list the literature and sources, such as scientific publications or studies, used for each scene.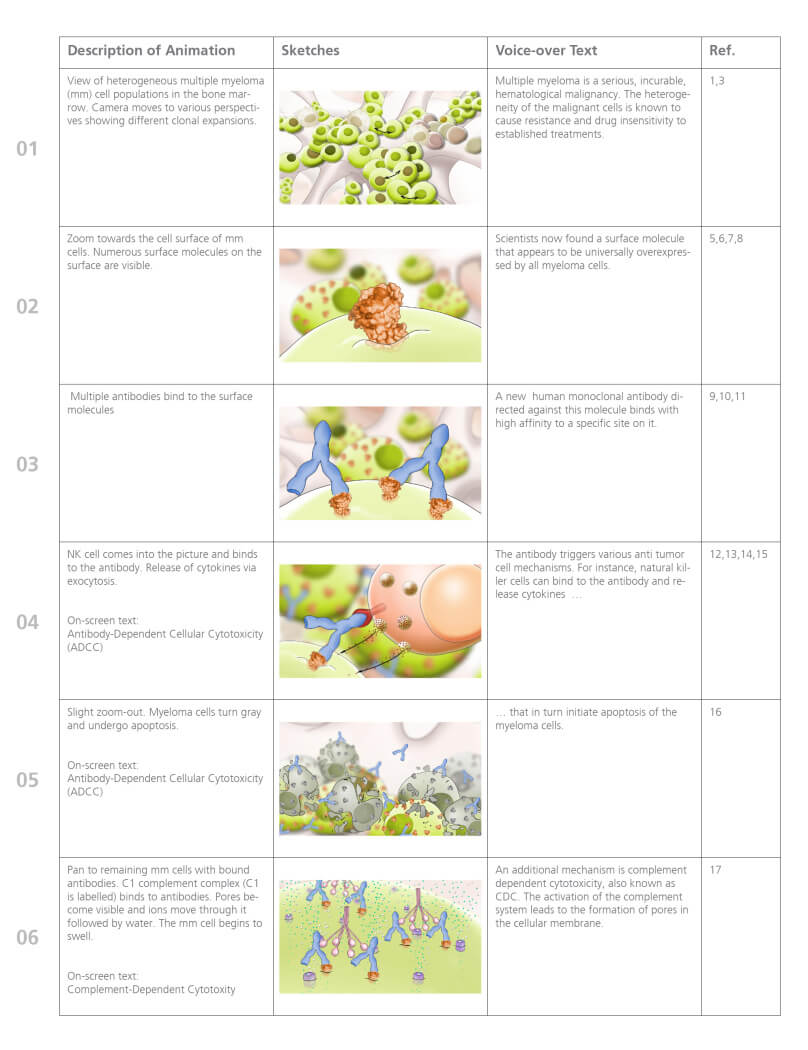 Animation and narration are evaluated together to give the audience the best possible understanding of the subject material and create a balance between images, spoken text, and on-screen text. This means that a brief animation, for example, should be accompanied by a short narration with a limited level of complexity, as the audience usually does not have enough time to process too much detailed information.
After the first storyboard version, your consolidated feedback regarding both the images and the narration can be quickly incorporated. Your internal approval process is especially important for the spoken text as the completed film will reflect any preferences specified in the storyboard your legal department approves. The approved storyboard is legally binding and saves time and money; after approval, changes to the storyboard can incur additional costs because scenes have to be re-animated or rearranged and the narration might also need to be re-recorded.
The storyboard lets you visualize the final animation, and tells the production team exactly how to create a film that meets your needs. The end result is a vibrant visual story that will attract and engage your audience.
Storyboard images and final animation scenes
Visual Storytelling is our core competence, which we pursue with decades of experience and passion – we are happy to help you create and implement the storyboards for your medical animation.
Do you have any questions? Please do not hesitate to
https://www.cast-pharma.com/wp-content/uploads/2016/04/Storyboard_V01.jpg
540
1420
Stefan Wolf
https://www.cast-pharma.com/wp-content/uploads/2014/10/logo_trim.png
Stefan Wolf
2016-05-02 11:04:57
2023-04-25 12:46:33
Storyboard – the basis of any animation