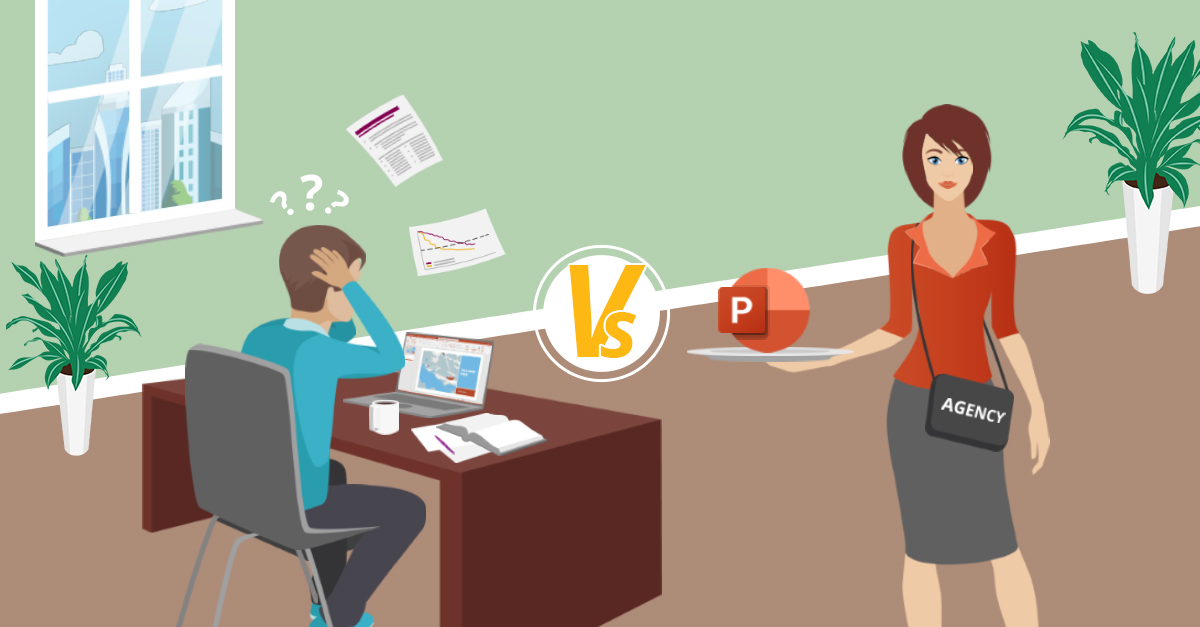 Why it makes sense to hire an outsourcing agency instead of creating slide decks internally
PowerPoint presentations are extremely powerful tools to help pharmaceutical and biotech companies reach their communication goals. They can serve as eLearning courses, scientific platforms, or live-presentations at (virtual) congresses. Unfortunately, despite this potential, the development of PowerPoint slide decks often does not get the attention it deserves.
When it comes to creating slide decks, there are generally two options. Your team can do it, or your team can give the task to an agency specializing in presentations.
At first sight, using internal resources to make slide decks makes a lot of sense. Your team usually has all the knowledge about the product, therapeutic area, mechanism of action, and relevant studies. But especially when it comes to telling scientific visual stories with slide decks, internal teams quickly reach their limits. After all, in order to create powerful visual presentations and slide decks, skills in graphic design and animation are required, as well as expert familiarity with PowerPoint. And even that does not guarantee a didactically well thought-out presentation. This means investing a lot of time and energy for subpar results.
An alternative to this internal approach is to partner with a visual storytelling agency specializing in slide decks and PowerPoint-based eLearning courses. Such an outsourcing partner asks the right questions about your communication objectives and has the background needed to discuss the content in depth with your subject matter experts. Correct referencing and the highest visual standards are as much a part of the service as familiarity with the therapeutic area.
Especially when materials or scientific slide decks already exist, it makes perfect sense to hire an outsourcing agency because PowerPoint presentations created internally are often text-heavy with far too many bullet points, and the slides often lack consistency.  A specialized agency will look at the content with a different pair of eyes, focusing on the story you want to tell. The slide deck will use consistent terminology and visuals throughout to give your audience a better understanding of the scientific topic.
In short, the best choice is for your internal team and subject matter experts to focus on the scientific content of the slides, and give the responsibility for design, didactics, and consistency over to an agency that specializes in scientific storytelling.
Do you have problematic slides in your deck?
If you are a leader in pharma or biotech, send us the most problematic slide in your deck: we will rework it and come up with suggestions for improvement. This service is free of charge, with no obligation!
https://www.cast-pharma.com/wp-content/uploads/2020/10/Blog_Header_Outsourcing_Agency_02.jpg
627
1200
Stefan Wolf
https://www.cast-pharma.com/wp-content/uploads/2014/10/logo_trim.png
Stefan Wolf
2020-10-27 12:34:15
2023-04-24 15:14:29
Why it makes sense to hire an outsourcing agency instead of creating slide decks internally