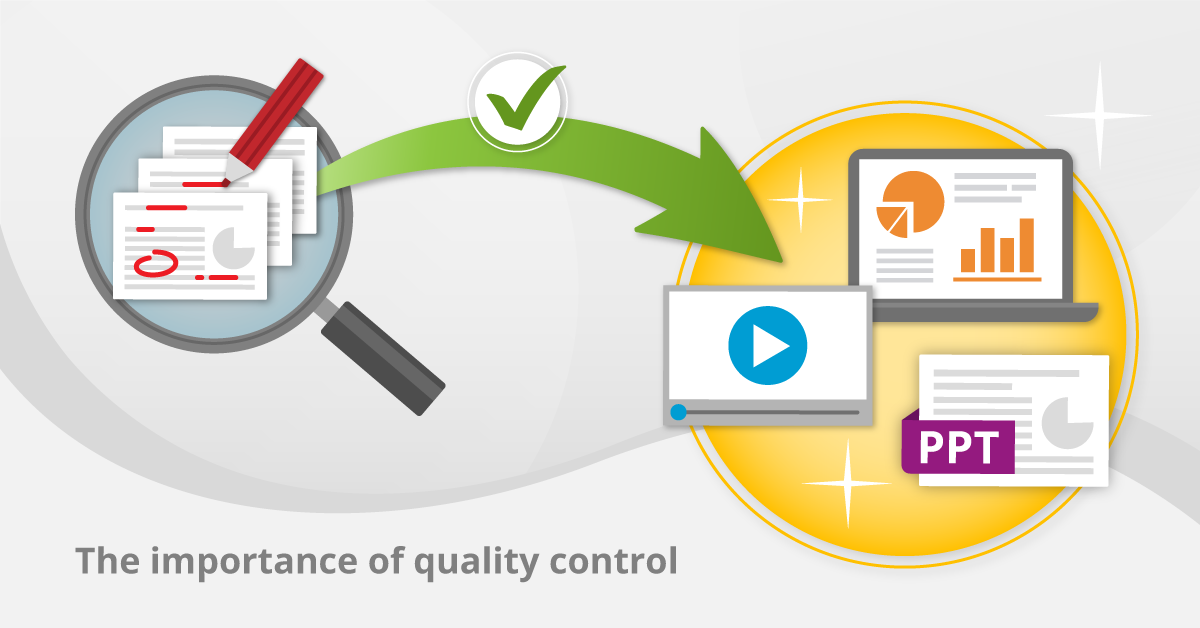 Why quality control is key in medical writing and scientific visual storytelling
Working in medical affairs in pharma, you probably have a baseline expectation that your agency partner will thoroughly proofread and run quality control (QC) on the materials they create for you. After all, you want clean copy, stylistic consistency, and easy readability in your slide decks, videos, infographics, and eLearning modules.
Unfortunately, this baseline expectation isn't always met. Some agencies may not employ professional copyeditors or use sophisticated copyediting AI tools, instead relying on medical writers to proofread their own work. This approach is not effective according to almost a century of research in quality control across various industries, from newspapers to factories. Ensuring accuracy and clean copy requires the skills of a professional copyeditor and at the very least, a second set of eyes.
The real value of QC in medical writing
The costs of not having an effective QC process in place can be significant. Immediate costs include your time and nerves. But the opportunity costs can be even greater; the time you spend checking your agency's work is time you can't spend doing your job. In the worst case scenario, mistakes can hurt your credibility with key stakeholders if fatal errors get through and end up in approved materials.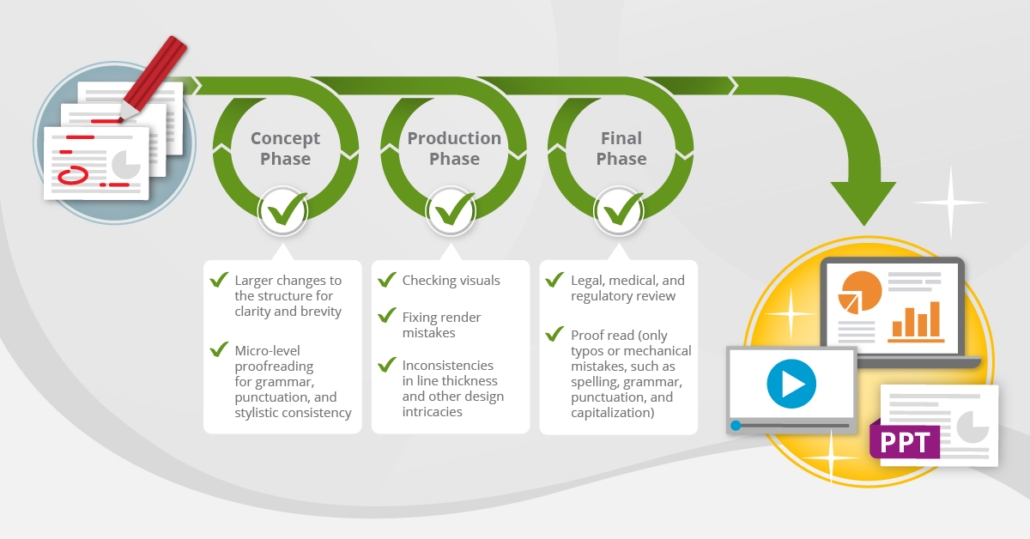 Copyediting doesn't look the same at every development stage. During the initial concept phase, a copyeditor may make larger changes to the structure for clarity and brevity, alongside micro-level proofreading for grammar, punctuation, and stylistic consistency. As the concept progresses and your team provides feedback, the medical content developer and copyeditor need to balance the spirit and letter of the feedback, ensuring overall coherency and flow as well as consistency. During the final stages of a material's development, when it is put through legal, medical, and regulatory review, most feedback needs to be incorporated verbatim, and the final proofread should address only typos or mechanical mistakes, such as spelling, grammar, punctuation, and capitalization as well as ensuring factual accuracy and that reference citations are correct.
Finding a partner that takes QC (and your time) seriously
A good agency should have a deep understanding of the importance of copyediting and QC, taking into consideration the target audience, your reviewers' concerns and feedback, and grammatical correctness. They should also know that a lot of QC involves checking visuals, not just text; fixing render mistakes, inconsistencies in line thickness, and other design intricacies that you don't want to deal with yourself. This is why an established QC process, using both digital tools and professionals, is so important.
So, as you search for an agency to create materials for you, make sure they have a strong QC process in place. Doing so will help ensure that the final product is error-free, credible, and professional. After all, you work for a pharmaceutical company, not an agency, and that means you aren't getting paid to proofread someone else's work. Of course, mistakes may happen occasionally even with the best team, but you need to be able to trust your agency partner to thoroughly copyedit, proofread, and QC the materials they are creating. When mistakes arise, your agency partner should be on top of it, knowing how to address the issue and make sure it isn't replicated across different materials.
To sum up, quality control for medical writing and scientific visual storytelling is crucial for ensuring accuracy, consistency, and credibility in your materials. Working with an experienced agency with a thorough copyediting process and quality control measures, both through digital tools and professional copyeditors, can save you time and protect your reputation.
https://www.cast-pharma.com/wp-content/uploads/2023/07/Head_importance_of_QC.png
628
1200
Colin Korell
https://www.cast-pharma.com/wp-content/uploads/2014/10/logo_trim.png
Colin Korell
2023-08-14 10:36:24
2023-09-08 12:42:55
Why quality control is key in medical writing and scientific visual storytelling