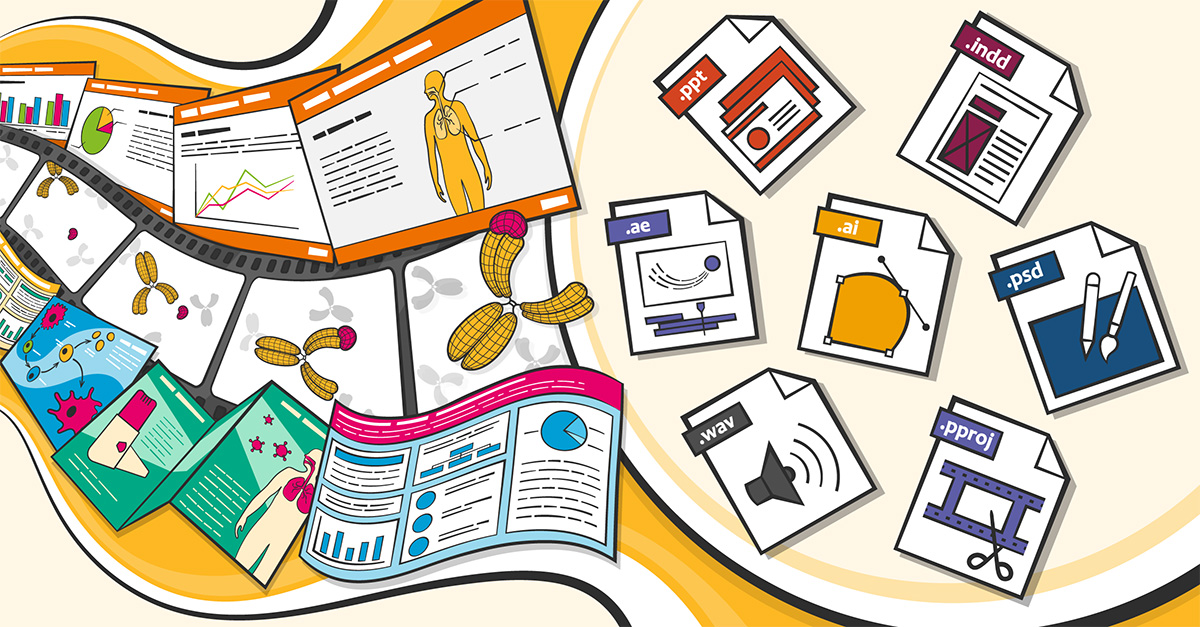 When you work with an agency on slide decks, illustrations, infographics, print materials, or videos, you probably want to use these assets for at least a few years and have them adapted for different markets or leverage them for other materials. That requires having what many people call "open files" or "source files."
Print and static materials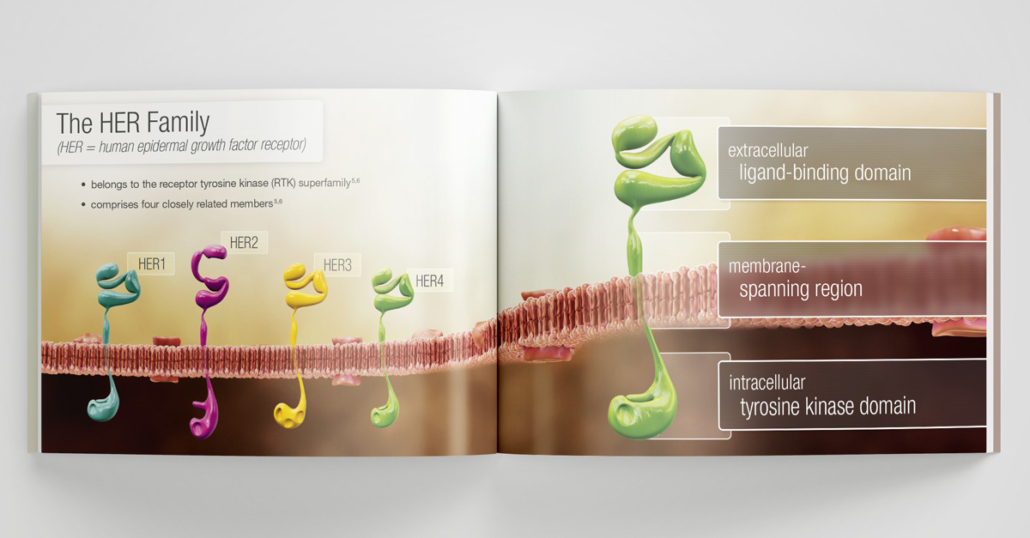 Here we're talking about anything that you might print or display digitally that doesn't have animation. For most print materials such as brochures, flyers, posters, and one-pagers, Adobe InDesign is the industry standard. Having the InDesign files will allow you to make adjustments to text and layout. Note that if there are visuals or design elements such as illustrations or icons, these would have additional source files, most often Adobe Illustrator or Photoshop.
Slide decks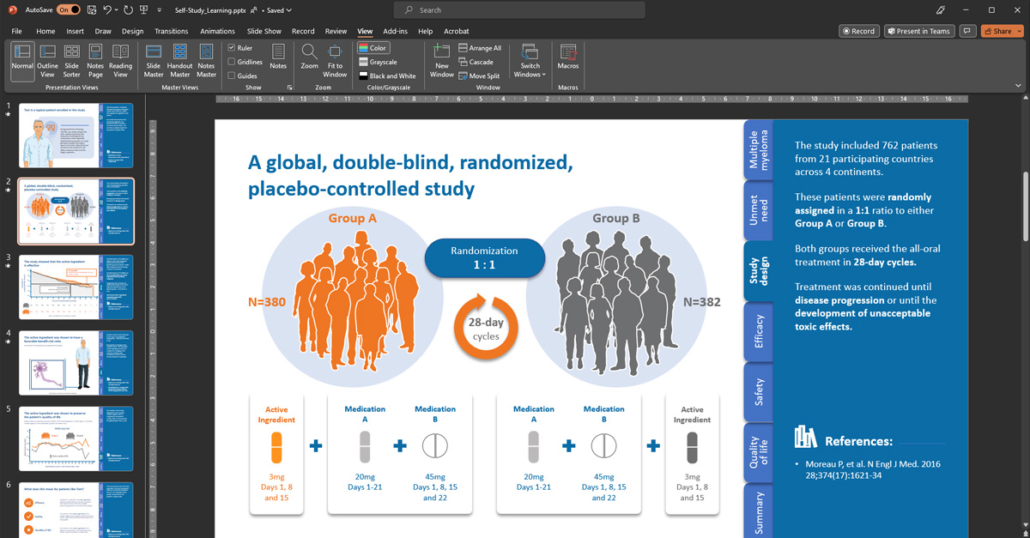 Simplest case. Here the open files will be PowerPoint! Of course, you can edit text, change layout, replace visuals and make pretty much any change you could possibly need. But one point to be aware of: if the slides contain illustrations created using different software, like Adobe Illustrator, you may need those source files as well, if it is likely that intricate changes will be needed in the future. In that case, it is best to discuss with your agency partner.
However, if created in the right way, many simpler visual assets such as icons can usually be converted to PowerPoint shapes and edited directly in PowerPoint. The feature is called "Convert to Shape" and it can be found under the "Graphics Format" tab.  This will be a lot easier to keep track of, since you won't need a separate source file for each and every icon used in a slide deck. Instead, you will just have a single PowerPoint that any of your agency partners can open and work with directly. Note that if you have videos embedded and need to update them, there are different files that would be useful. Speaking of which…
Videos
What are the open files for a video? The answer strongly depends on the kind of video and what you need to do with the files.
But generally speaking, in the vast majority of cases, a clean feed of the video with editable AfterEffects and Premiere files will prove most useful, balancing "adaptability" with ease of transfer and use.
This clean feed package includes the following in a .zip folder:
an editable Adobe Premiere file for inserting, removing, or replacing scenes (.pproj)
separate audio files for the voice-over, music, sound effects (.wav)
an editable Adobe AfterEffects file for editing on-screen text (.aep)
With a clean feed, an agency should be able to make changes such as creating and inserting a voice-over, removing or inserting scenes, and editing on-screen text. In other words, they can do everything that is usually required when adapting a video for use in a different market (e.g. updating logos, disclaimers,) or for a different language (e.g., adding a new voice-over, inserting local packshot scenes, translating on-screen text, subtitling).
3D Animation
If your video has 3D animation, a clean feed package of files as described above will not allow for making changes to the 3D models themselves. If you have a specific use in mind that requires working directly with 3D models, it is best to let your agency partner know before starting a project. The additional time needed to prepare 3D open files can be significant depending on the length and complexity of the video. This is why many agencies do not assume they will be providing these files and explicitly exclude them from their scope of services.
Before you request 3D source files (and pay the costs associated with providing them!) be aware that not every agency will be able to work effectively with them. Unlike Adobe Illustrator or InDesign, there is not a definitive industry standard 3D animation program. Your various partner agencies probably do not have all of the possible software or expertise needed to work with complex 3D files. This is especially the case for local agencies that help your country affiliates adapt materials for different languages and markets. They can probably recut a video with a translated voice-over using a clean feed package of files with ease. But don't be surprised if they don't have as much experience working directly with 3D animation software. And even if they can, these files are not so useful when their task is translating a video for a local market.
On top of it all is a logistical complication: source files for 3D animation can actually be too large for transferring via the web. They often need to be shipped on a hard drive, which of course adds time and costs. The time, costs, and organizational effort are compounded when sharing the files internationally with many different agencies and affiliates.
So for 3D animation, as with 2D animation and live-action videos, in most cases it's best to keep it simple and request a clean feed package of files instead of all of the raw, editable source files.
Keep an open line of communication
Regardless of the type of materials you're creating or the type of open files you need, it's always important to communicate clearly with your agency partners. Find out what files you need before requesting open files. When you're briefing an agency to create new content, make sure to include these open files in your brief, as this can affect not only time and costs, but also how the agency works. When they know what they need to provide from the start, they can make sure their workflow is optimized for those deliverables. And you can make sure you get what you need to keep your materials up to date and distributed globally.
https://www.cast-pharma.com/wp-content/uploads/2023/06/open_files_head.jpg
627
1200
Colin Korell
https://www.cast-pharma.com/wp-content/uploads/2014/10/logo_trim.png
Colin Korell
2023-06-14 06:49:15
2023-06-29 09:43:00
Can we get open files?