Visual Storytelling – Medical Illustrations
The easiest option for the visual representation of complex issues is the scientific illustration. But "easy" is probably the wrong word to use in this context. Unlike animated films with their step-by-step explanations and sequentially unfolding content, an illustration has to make clear all relevant processes in a single static image. From this, great conceptual demands arise, both in terms of scientific knowledge and graphic expertise.
However, "easy" is the correct choice of word when it comes to describing how a medical illustration can be integrated into an existing format or into one that is still to be created, be it a website, a PowerPoint presentation, a scientific poster or a brochure.

Concept Draft – Visualizing fundamental ideas
in a detailed drawing
Implementation in 3D – Detailed depiction of the
relevant processes in line with the approved draft
You would like to find out more about our services?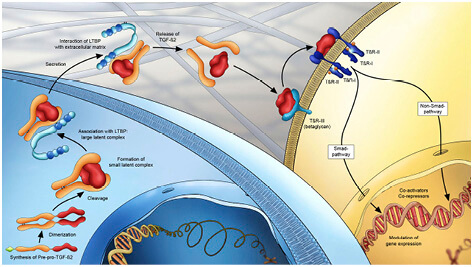 Scientific Illustrations – Various Graphic Approaches
Various different styles – a cartoon-like look, sketches or a detailed 3D rendering – will help your audience understand the mechanism of action of your product, new study results or the mechanism of disease at a single glance. Naturally, combining these different styles to maximum effect is also possible.
How can we help you with your Medical Illustration ideas?