Medical training in collaborative learning scenarios
Science communication in the pharmaceutical and biotech industry plays a fundamental role for the successful education and training of medical affairs. The knowledge which has to be transferred to the target audience is usually highly complex due to the large amount of specific data, scientific facts, and the interconnections between them. To facilitate the learning process, different learning and training tools with different approaches are necessary. These tools build upon each other to develop employees' skills, knowledge, motivation, and flexibility over time.
A MasterClass is a medical training based on a flipped classroom model. It is designed to engage participants in a collaborative learning scenario that activates their knowledge, reveals misconceptions, and closes any gaps in their knowledge.
Instead of being in a passive role like during e-learning courses or one-way instruction, the participants have to become active and apply knowledge they have previously acquired. As a result, the learners will have the ability and confidence to communicate effectively with their target audience.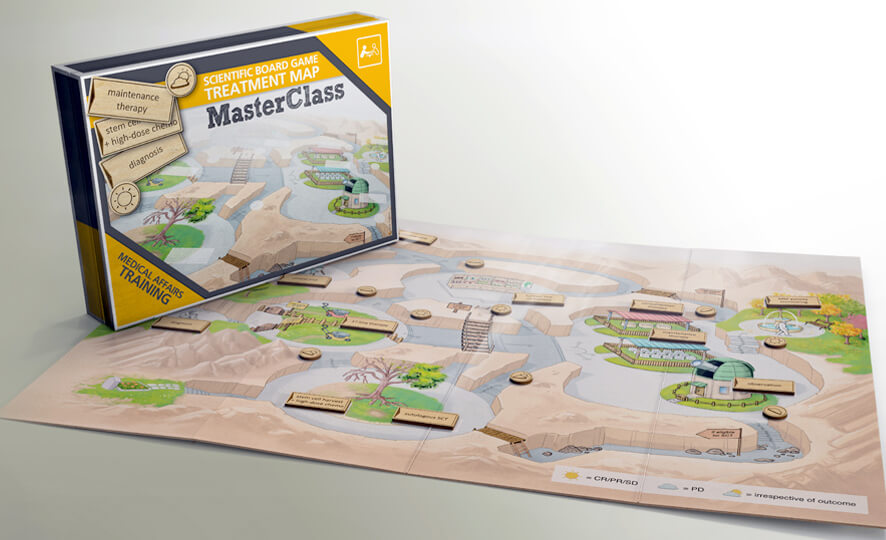 Make your medical training stick with science-related board games.
Please enter a correct e-mail address.
By entering your email address you will subscribe to our Visual Storytelling Newsletter for Medical Affairs and receive our free eBook about MasterClass collaborative learning scenarios. Our newsletter provides advice and best practices for presenting scientific information to your target audience, from pedagogy to design, technical specs to usability, timelines to costs and everything in between. You can unsubscribe at any time. Further information on privacy, unsubscribing and terms of service can be found in our privacy policy.